Deliver Download
How to deliver your film by internet file transfer
Introduction
Below are instructions on how to deliver your film to us. Please read them carefully and please follow them to the letter.
There hundreds of films in the festivals we handle and as you can probably appreciate, when we're receiving dozens of files and hard drives every day, we need to be systematic to ensure nothing gets misplaced.
Largely, we'll be using a database system to track the process of preparing everything for the festival. You need to start the process of delivering your film by filling in a form on this website, and you may receive emails from a computer system giving you updates, rather than emailing or calling us.
I'm sorry that this is rather impersonal, and sometimes it may seem rather pedantic. It's just the only way we can efficiently manage this volume of films.
Ultimately, our aim is to get all of your films to screen looking and sounding as brilliant as they possibly can. Please help us to do this.
Delivering by internet file transfer
Please wherever possible, deliver by internet transfer. We've found it's much easier for everyone.
Delivery methods
We can accept a few different methods of file delivery. All are free.
Please DO NOT email us download links. We have an automated download system which you can put your download links into here.
WeTransfer (up to 2GB free)
WeTransfer allow transfer of up to 2GB for free.
If you need to send folders (e.g. a DCP), "zip" them up. (see instructions below)
If you are sending a DCP and a video file, please send each separately
If you have multiple films in the festival, please send each film separately
How to upload:
Email a link to yourself, not to us
Enter the download link into the form on this website here
Dropbox (if you have an account)
To get a link for the file/folder you want to send us:
Open Dropbox in your browser
Find the file/folder you want to send and click on it
Click the Share button

A window pops up. Click Copy link

The link is copied to your clipboard (like you'd chosen Copy from the menu, or used Ctrl-C on the keyboard)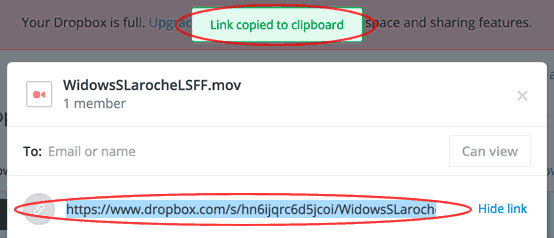 Enter that link into the form on this website here
Zipping your files
Zipping is the process of compressing several files into one "ZIP" file.
On a Mac
Select the folder to compress in the Finder
Open File menu then select Compress
It should create a new file alongside the folder with .zip on the end of its name
On Windows
Same process as for Mac, but use the program WinZip to create the .zip files
Why do I have to use your stupid form?
Well... managing the delivery of this many films is an enormous task. And downloading hundreds of films from various download links is very time consuming.
It's also unreliable - there may be corruption in files due to flaky internet connection etc.
So we use an automated system which will download links you put in the form automatically. Not only will it save us time which we can then spend testing films in the cinema and making sure they look great, also the system has the ability to check files for corruption and ensure they reach us exactly as you sent them.
Why can't you accept a MyAirBridge link?
We've chosen to only accept a few transfer methods because they're robust and we can better manage the process of receiving all the films. We've added support for the most popular services requested by filmmakers.
If you have problems with our supported methods, contact us and we'll see what we can do. But please try to use one of our supported transfer services unless you have a really good reason not to.
Thank you!